Hayden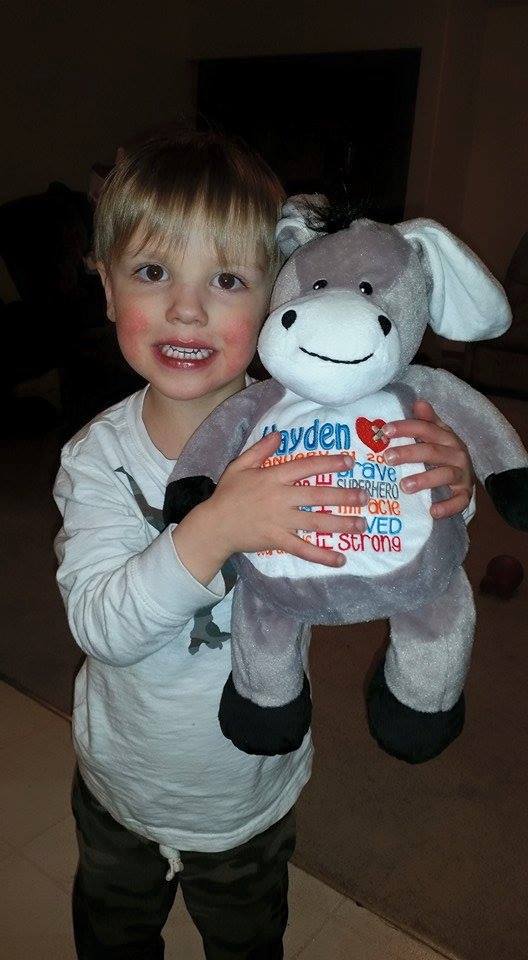 When Hayden's parents were pregnant with their second child, they were not expecting anything to be wrong with their soon to be born baby boy. Samantha had gestational diabetes and was induced at 39 weeks with a very quick delivery. At birth, Hayden's hands and feet were blue, yet his Apgar's were good. No one was too concerned. He would latch on to feed, but he couldn't stay on for very long so he went to the nursery in hopes he would eat.
Then things began to get scary. The next time Samantha and Ryan saw their baby boy, he was being prepped for an ambulance ride to the University of Iowa, Hospitals and Clinics. They were told a nurse heard a heart murmur and the U of I would be the best place for Hayden. Upon further testing in Iowa City, Hayden was diagnosed with hypoplastic left heart syndrome.
Hypoplastic left heart syndrome is a complex and rare heart defect present at birth. In hypoplastic left heart syndrome, the left side of the heart is critically underdeveloped. When a baby is born with this condition, the left side of the heart can't effectively pump blood to the body, so the right side of the heart must pump blood both to the lungs and to the rest of the body.
Hayden had his first open heart surgery when he was 5 days old. After spending some time in the hospital, Hayden went home with his family. He was fed with an NG tube and put on a 3 hour feeding schedule.
In June of 2011, Hayden had his 2nd open heart surgery and his 3rd in September of 2014. Since then, he has endured 3 cardiac catheterizations to check blood flow in the coronary arteries and to check the function of different parts of his heart.
Hayden was able to start preschool this fall! Samantha and Ryan feel extremely blessed to have had no extra hospitalizations throughout Hayden's journey. They are happy to have him in school with his peers in a district that cares about the kids.
Hayden, his brother Xander (8 years old), and his parents will take a trip to Disney World, thanks to the Make A Wish Foundation. The Maxwell Meiborg Foundation is honored to sponsor Hayden's wish.

The Maxwell Meiborg Foundation is proud to know Hayden and to help make his wish come true!