Kyle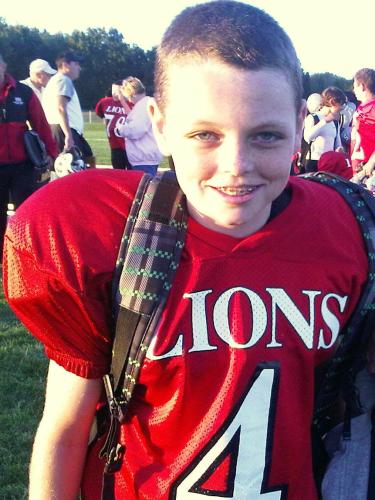 Kyle excels in academics at Oakridge School in Marion. This 7th grader is a loyal friend, son and big brother to Karlye and Kody. He was diagnosed with Friedreich's Ataxia, a life-shortening, debilitating and rare genetic neurodegenerative disorder, in 2009. This disease usually transpires in children between the ages of 5 and 15. Symptoms include muscle weakness and loss of coordination in the arms and legs; impairment of vision, hearing and speech; aggressive scoliosis (curvature of the spine); diabetes, and a serious heart condition.

While there is currently no treatment and no cure, Kyle and his family remain positive. He loves to play football, soccer and is a huge Seattle Seahawks fan. He enjoys watching college football and roots for the Oregon Ducks.

Kyle is still contemplating his wish. He is tossing around the idea of attending a Seattle Seahawks football game this season.
Kyle and his family also have two dogs, Sally and Sparky, and a cat named Crosby.

Kyle's mom Jennifer has joined Team FARA (Friedreich's Ataxia Research Association) to help raise awareness and funds to support research to find an effective cure for all the children affected by FA. She has formed "Team Kyle" and is excited to be a part of a cause that will raise awareness around the world. She is participating in her first event in October where she will Ride for Ataxia in Philadelphia. For more information and to sponsor her efforts click on the link below.
https://sna.etapestry.com/fundraiser/FriedreichsAtaxiaResearchA/teamfara/individual.do?participationRef=968.0.234290519

The Maxwell Meiborg Foundation is proud to know Kyle and to help make his wish come true!